Winner of the 2019 Best Driver's Car Award
I mean, you must have seen this coming right? Since 2007, five Porsche's have also taken home this award , but the winner of the 2019 Best Driver's Car by MotorTrend is none other than the 2020 Porsche 911 Carrera S. It is quite the distinction and people look forward to it every year. Just like PCOTY or Performance Car of the Year put on by Road and Track, which the Porsche 911 GT2 RS took home in 2019 as well. These 2 competitions really separate the men from the boys, figuratively of course. We get to see so many big names come together for a competition to see who reigns supreme in this huge automotive industry. The 911 Carrera S blazed the competition in terms of creating a beautiful and cohesive driver experience. None of the other contestants came close to the 911's expertise on the track so it was only fair that the 911 was crowned as the 2019 BDC Winner! That's #GenuineGerman power right there.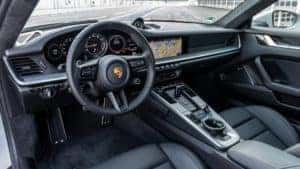 Lucky for you, Porsche Tacoma carries these wonderful 911's at our showroom in Fife. Not just that, we have all of the beautiful Porsche models you love here today. Come see us and test drive your dream car and be satisfied by our excellent level of service and professionalism. Let's get you into a brand new vehicle that you will love!