Royal Falcon One
We decided today to take a little detour from Porsche's vehicles today and focus on something a little bigger. Royal Falcon One is a 135-ft catamaran yacht that was built in collaboration with Studio F. A. Porsche (with F. A. standing for Ferdinand Alexander respectively), Royal Falcon Fleet and Kockmus Shipyard. Studio F. A. Porsche is a subsidiary of the Porsche Brand which specializes in the design aspect of Porsche. When we got word that the Royal Falcon One was finally complete, we got giddy! It is always such a treat when Porsche diverts from their sports cars and coupes because you know that it is going to be very special!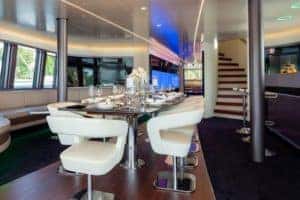 It is said that this Yacht has been in production for 10 years and has just finished in October late last year. The yacht is said to have spacious living areas, beautiful dining spaces, and a luxe master suite w/private balcony! Also included in an onboard bar, Jacuzzi and tender garage! It is said by the listing agent that the Royal Falcon One is "a spaceship on water". The Yacht listing is exclusively through "Camper and Nicholsons" and is still up for sale! The yacht can carry up to 10 people and 10 crew members comfortably across four cabins and a master suite with crew quarters below the deck in the hull!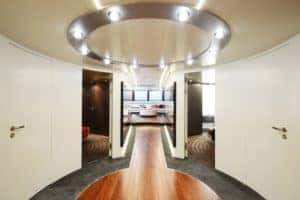 Like I mentioned above, the Royal Falcon One is on sale right now for approximately $16,000,000. It's a great investment for people who want to live their lives on the water or want to bring back a sense a sense of adventure to their lives. Whatever the reason, the Royal Falcon will satisfy your needs and bring back endless adventure potential! Keep up to date with us on our very own Porsche Tacoma website where we have the latest and greatest Porsche news and articles! You are already here, why not click another post and see what we have to offer.