Porsche Taycan Turbo S
The Porsche Taycan is the latest and greatest for Porsche being its first all electric vehicle and it will be rolling out very soon. Pre-Orders have begun so within the next few months we will see the Taycan and its Turbo S version on our shores. The 2 versions of the Taycan both have two electric motors designed to power one axle each. The Turbo S offers an engine capable of outputting 616 horsepower, but with activated launch control the Turbo S pops up to 750 horsepower with the help of the 2.5 seconds of "Overboost". This incredible power can even take the Turbo S 0-124MPH in less than 10 seconds!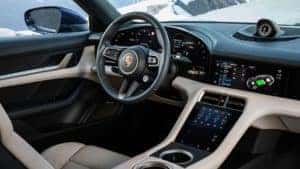 The interior of the Taycan is inspired heavily by the 911. The man who designed the Taycan, Thorston Klein, owns a 1973 Porsche 911. It sits lower than the Panamera and the sloping digital cluster and prominent fenders give a very 911-esque eel. There is also inspiration from the 918 as well with the center console and touch screen HVAC control.
A very beautiful new Porsche coming to the US at the end of 2019. We could not be more excited for the first shipments. You can reserve yours now at Porsche of Tacoma's website to be one of the first to own this monumental release. We hope to see you soon in our beautiful showroom!