Porsche Panamera
The new 2020 Porsche Panamera is right around the corner and we are here to discuss all the changes and modifications that have been made since the 2019 model. With this being the 10-year anniversary of the Panamera model, Porsche has gone all out for this model.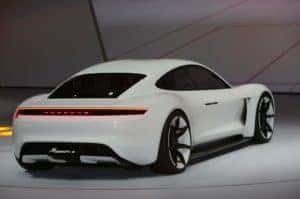 First off, introducing a new 2.9L dual-charged V-6 engine which produces 440HP and a torque of 405lb-ft rating! The Turbo version of the Panamera has an even more powerful 4.0L dual-turbo V-8 engine with the capacity to output 550HP and 567lb-ft torque! Now that's some amazing capability! The Panamera is going to be redesigned to feature a sportier front fascia that has a reduced nose much like the 911 model. The reduced grille has been restyled with directed change signs which brighten the front end. As well as these cosmetic improvements; the front tires have been moved forward, and the rear has been squared off and stretched slightly thus making the roof slightly higher as well.
The interior continues to be upgraded to be far more classy and fashionable to give that luxurious feel that you get with all Porsche Models. With all the exteriors measurement improvement, this will make way for a spacious cabin and an increase of headroom and legroom. As well as a more spacious feel, you will get the best ease and comfort due to the leather upholstery and ergonomic seats and controls. The steering-wheel has also been reworked with more expression management button. This model features a 12in display screen that includes hyper-sensitivity buttons. The rear seating has not been reworked despite all the reimagining done in the center and front seats.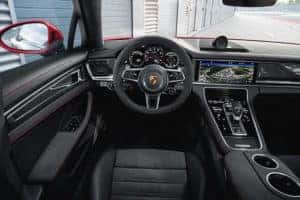 If you are looking for that luxury feel of space and sporty design, or if you are looking for the latest and greatest in technological advancements, consider the 2020 Porsche Panamera and Panamera Turbo! Releasing late 2019!