Porsche Macan S
We are so happy to introduce the new 2020 Porsche Macan S! With exterior features inspired by our Porsche 911 model, and sportier overall appearance, it is slotted under the highly popular Porsche Cayenne, and this is the smallest crossover introduced by Porsche!
The Macan S has been given a facelift! Exterior includes almost the same trim and design but, under the hood is a different story! With a brand new V6 engine, this model is capable of outputting 354HP and a torque of 354 lb-ft and is able to accelerate 0-60MPH in 5.1 seconds! This model takes a lot of inspiration from the Porsche 911 model in terms of the front fascia and several styling cues. The Headlamps are now featuring the familiar four point LED lighting pattern that comes standard with every trim level. The bumper intakes have been revised as well that have added horizontal slats to the center vent, and the bigger side outlets have wider slats. The apron is larger as well and almost as sharp as the 911's splitter. All of these new additions result in a wider and sportier look overall. This model is available in 4 exterior finishes which are aptly named Macan Miami Blue, Mamba Green Metallic, Dolomite Silver Metallic, and Crayon.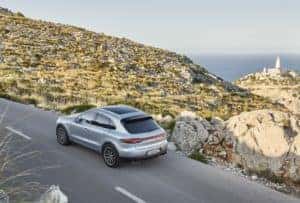 As for the interior we have a brand new large Infotainment Display, a cleaner central stack for a more modern and sleek look, also added is a sportier steering wheel, revised infotainment system, redesigned A/C vents, and a heated windscreen! With the revised Infotainment system, Porsche has added a larger display screen that is 10.9in which is 4in bigger than any previous ones to be implemented. With the redesign of the center stack, Porsche has removed the traditional layout for space for that bigger display screen! They have moved around the A/C vents and removed a few buttons that were not necessary to be on their own and have added several buttons together to make one button for multiple options. Lastly we have the revised and sportier steering wheel; it can be equipped with a mode switch and a Sport Response Button. Both options are available with the Sports Chrono Package.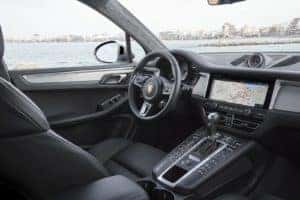 This model includes many options for safety controls as well including Traffic Jam Assist, Adaptive Cruise Control, partially automated acceleration and braking functions, and Porsche has also added Connect Plus which features intelligent voice control and real time traffic info! If you are looking for the height of luxury, and all the space and comfort you could ask for, while being safe and sound wherever you go, then consider looking into the 2020 Porsche Macan S. This model will be available in late 2019 and while there is no official pricing for US dealerships, it will be more than the Porsche Macan which is $55,400 MSRP. Count on a $60,000 price tag!