Porsche GT3 RS
This flashy and unique model stands up to the rest with its level of performance and incredible design. The Porsche GT3 RS is an amazing representation of what Porsche can really do. It combines engine power and tech flawlessly and is well worth the cash!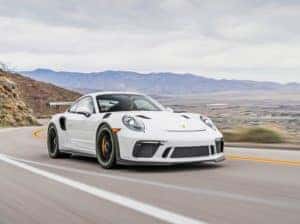 The GT3 comes to us with a 4.0L flat-six that is capable of outputting 500-520 horsepower and 346lb-ft of torque. The GT3 is offered a 7-speed dual-clutch automatic transmission or a 6-speed manual and it can go form 0-60MPH in 3.0 seconds. The GT3 has an extremely aggressive designed exterior with a very "prominent rear wing, giant air intakes and fender-filling wheels and tires" according to "CarAndDriver.com". It would be hard to mistake this model for anything else than the absolute beast it is.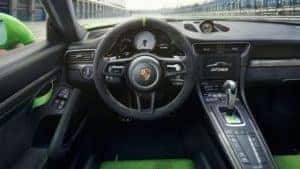 On the inside the GT3 has the familiar 911 styling that includes a simple dash design with a digital cluster of 5 circular modules. With all the interior inspiration coming from the 911, the GT3 did take some creative freedom by eliminating the back row seats in exchange for less weight so it can zoom everywhere and anywhere with relative ease. The GT3 is a powerhouse of fun and design prowess. It is exactly what you come to expect from #GenuineGerman engineering and Porsche as a brand.
It is the best of both worlds with performance and design, and we could not be happier to have this model in our wonderful showroom at Porsche Tacoma in Fife. For all your Porsche needs, we have your back! Come and see one of Germany's greatest feats of engineering today at Porsche Tacoma!