Porsche Cayman GT4 First Look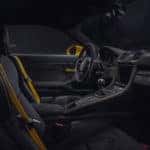 The time is now; the Cayman we've hoped for is finally here! This model delivers staggering performance, incredible precision, and an elegant level of poise to top it off. The director of the GT line calls it the Evolution of 981 Series GT4 that was in the running for Best Driver's Car award in 2015. The new Cayman is capable of outputting a new 414HP but it is capable of 309LB-FT just like the last model. Top speed has also increased by 5 MPH to 188MPH but acceleration form 0-60 is the same at 4.2 seconds. This model features a brand new 4.0L flat-six engine that is based on the previous 3.0L engine form the 992 model. We don't have a whole lot of details into the specifications of the interior but it will be very similar to the previous model with the obvious technical innovation and upgrades to the all around performance, with upgraded comfort and space.
The first drives for the GT4 began to roll out June 2019, and we are expecting a release date for next Spring, but Preorders are open for this particular model and have had a price increase of about $16,000 from its previous model due to being a more cohesive model and more specified engineering. Whether its style and design you are looking for, or if its peak performance and precision you have your eye on. The Porsche Cayman GT4 is on its way, and I can guarantee that this model will not disappoint in any way, shape or form. Preorder now!