Porsche Cayenne vs Land Rover Discovery
Luxury SUV's have come so far in the recent years and today 2 brands are going to head to head to see who comes out on top in the battle of the Luxury SUV's! It's the one and only Porsche Cayenne versus the Land Rover Discovery. Is it going to be our very own German behemoth, or is it going to be dethroned by Land Rover? Well, just keep on reading!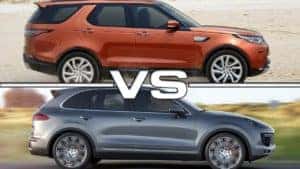 The first thing we see on both vehicles is the outside styling. The Land Rover has sharper lines and a more square appearance compared the sleek roundness of the Cayenne. The Cayenne gives a much more modern look and looks more aerodynamic than the boxy Discovery. Exterior stylings aside, let's have a look under the hood. The Cayenne holds a 3.0L Intercooled Turbo Premium Unleaded V-6 capable fo outputting 335-hp and 332lb-ft of torque. The Land Rover engine is very similar in power to the Cayenne too with an Intercooled Supercharger Premium Unleaded V-6 capable of outputting 340-hp and 332 lb-ft of torque. Where the Cayenne starts to pull ahead more is in the Fuel Economy department with 19city/23highway and the Discovery with only 16city/21highway. Both vehicles come standard with AWD and have similar standard and optional safety features including blind spot warning, lane departure assist, and more! The difference in price is justified by the Cayenne's fuel economy, more standard features assist features! In this case you are paying for #GenuineGerman engineering after all!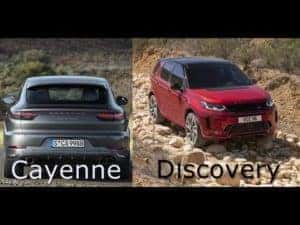 The Cayenne one of our amazing Porsche SUV's available now at your neighborhood Porsche Tacoma dealership! Of course we don't only have this but we have the smaller Porsche Macan, and if you aren't looking for an SUV, check out our selection of Sedans and Coupes! We guarantee there is something here for you. So come see what all the hype is about at Porsche Tacoma!