Porsche 911 Turbo S vs. Ferrari Portofino
Today we find two luxury powerhouses going head to head in a supercar showdown. The two giants, Ferrari and Porsche, fight to see which beast will reign supreme in this battle of performance, comfort and tech. Stay with us, because we are getting into this heated standoff right now!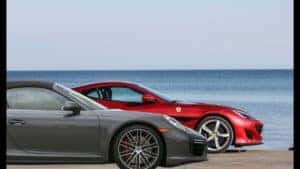 You may think that Porsche and Ferrari are not even comparable or in the same boat, but that is your first mistake. German engineering strikes back at the long standing top of the food chain contender that is Ferrari with its powerhouse, the 911 Turbo S up against the rivaling Portofino. At first glance you may see the price tag and think there is now way Porsche could compete with the Portofino, but from the research done it seems as though the Ferrari isn't delivering the value you may expect from that price tag. In terms of power, the Ferrari does a tiny bit better, but the Porsche is faster at a top speed of 205MPH compared to 200MPH on the Portofino. The 911 can also accelerate 0-60 in 2.8 seconds while the Portofino reaches 60 in 3.5 seconds. An added bonus on the 911 Turbo is the All-Wheel drivetrain and rear axle steering making it easier to corner and park!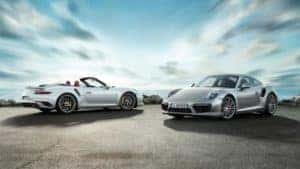 In terms of bang for your buck, the 911 Turbo gets better fuel economy at 19MPG/24MPG while the Portofino gets 16MPG/22MPG and you get some more leg and headroom in the 911 compared to the Portofino. Both models are extremely sleek and very design forward and have incredible drive and power.
Ferrari's are crazy expensive, and with it being $50k more than the Turbo S, it just doesn't seem realistic to get something with similar power and performance and paying more when the Porsche 911 Turbo S is awaiting you today! Porsche of Tacoma has your power, design and performance just right across the street! Come see us and see for yourself why Genuine German engineering reigns!