Porsche 911 Speedster
The peak of power, the peak of design, the peak of tech and the peak of it all. What a vehicle the 911 Speedster is, with its beautiful modern look, streamlined features, and beautiful color options, the Speedster is just the epitome of luxury design. Not to mention its gorgeous yet simple interior with a nice 8.6in display with all your settings or the control clusters around the gear shaft including you climate control and other settings.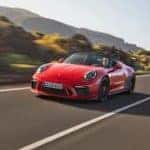 Now this car is powerful, the sweet flat-six 502HP engine does not disappoint in any way, it's even can go 0-60MPH in 3.5 seconds, and to contrary belief, the Speedster has amazing fuel economy and is cleaner than it GT3 counterpart. The speedster is a 2-seater which means you cannot be taking a bunch of people in it, but with that being said, the level of comfort is through the roof. So much legroom and unlimited headroom due to it being a convertible as well! This car handles like a dream, its weight causes it to me extremely structural and very smooth to drive, and not much can throw this beast off its route. Great storage options too for the front trunk!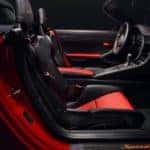 Although gets beat out in some categories by the GT3, which it is inspired by, this vehicle is fun. Fun to drive and fun to look at, this model will astound the people around you and you will be the talk of your friends and family in this beauty. Available now at Porsche of Tacoma in Fife! Come on down and check it out!