Porsche 911 GTS
The Porsche GTS lineup may be the most affordable, but that in no way means that you are sacrificing quality. The GTs models are all fabulous in their own way whether it be the added performance options or the option between manual and automatic gear shifting, and coupe or convertible! Now with buying any Porsche, you know you are going to get something special, something that is of peak luxury, and something you will thoroughly love driving!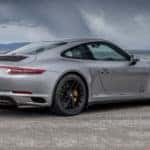 The 911 GTS comes hooked up with a 450HP twin-turbocharged 3.0L flat-six beastly engine that is capable of carrying this car to 0-60MPH in a soaring 3.9 seconds and outputs 405lb-ft of torque. Categorized as a sports car, this model offers precision handling, steering and extremely smooth driving experience everyday due to its weight and structurally sound base.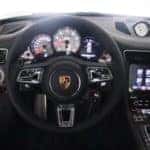 Now when you think affordable, you don't think Porsche first, you think Hyundai, Honda, Nissan, Toyota, and others but the GTS in Porsche's terms is more affordable than the rest coming in under MSRP of a regular 911. You even get the added bonus of the suede stitched on the steering wheel and beautiful leather upholstery on the seats and dash. Porsche really is the lap of luxury; you are getting premier German engineering and luxe accommodations of convenience and comfort. We have just the thing at Larson Porsche of Tacoma located in Fife off of Pacific Avenue! We'll show you our inventory of new and used 911 models!