Porsche 911 GT3
Porsche was not playing when they released this beauty 20 years ago, and they are not letting up anytime soon it seems. This year's GT3 comes with its absolutely stunning visuals such as its impressive rear wing, huge air intakes and the beautiful fender-filling wheels! If for some reason you are not entirely satisfied with the base GT3, we have for the daredevils of the world, the GT3 RS which has increased performance, power and visual enhancements, or if maybe you are looking for something a little more subtle, the 911 Speedster might be for you. Whatever tastes you may have, we here at Larson Porsche of Tacoma have something to satisfy everyone!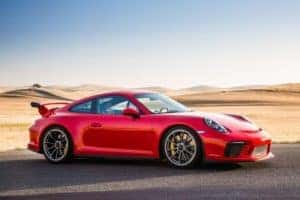 The GT3 model feature a 4.0L flat-six that is capable of outputting 500HP-520HP and its rear-mounted engine drives it through a seven-speed dual-clutch auto transmission. The GT3 is always able to go 0-60MPH in an incredible 3.0 seconds! Inside the cabin you will find a the familiar feel of all the 911 models, such as a simple dashboard and well known gage cluster. The GT3 has removed the rear jump seats to keep with the stylish racecar feel. With making the front seats the real star of the comfort show, they have power adjusting capabilities and even more comfort than before. Also available is the carbon-fiber upgrade which makes the seats weigh less and support more!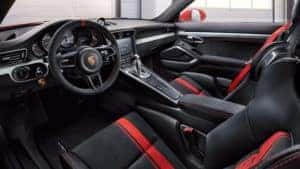 The GT3 is available now in original form and RS form so whether what you are craving is power and performance, or if you are just searching for thrill, the GT3 lineup has got you covered! Come check out our inventory at Larson Porsche of Tacoma in Fife, we will take good care of ya!