Porsche 911 GT2 RS
We have a great model highlight for you today about the one and only juggernaut of Porsche, the 911 GT2 RS! The abilities of the GT2 RS blow all other competition out of the water since very few vehicles have the performance and speed of the GT2! We are going to get into what this model can really do and much more! I think you will be more than surprised and what this beast is capable of!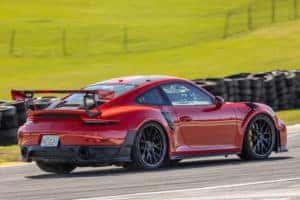 2019 was a huge year for Porsche, we saw the release and unveiling of so many great cars such as the Porsche Taycan and the 2020 911, plus the numerous awards won by Porsche. The GT2 RS is one of the few models that is rated 5/5 on "CarAndDriver" which is not an easy feat at all! Let's begin with some performance info on our beautiful German machine shall we? The GTs RS boasts an impressive 3.8L flat-six that is capable of outputting a whopping 700-hp and 553lb-ft of torque. All of that is directed to the rear thanks to a seven-speed dual-clutch! A quote from "CarAndDriver" says that the vehicle basically teleports from 0-60MPH in a matter of just 2.6 seconds which is absolute insanity! Porsche really knew what they were doing with this vehicle from performance to stylish design even! The Porsche GT2 RS is designed quite like a race car but more modern and sports car like. A large spoiler on the back factors into its aerodynamic nature! On the inside, Porsche chose to not make the interior so race focused and make it more like their 992-generation 911! It integrates a very nice mix of leather and suede surfaces and a feel of luxuriousness!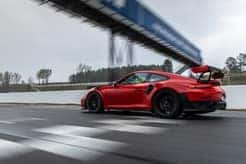 The Porsche 911 GT2 is an absolute monster in Porsche's lineup and would be an excellent vehicle for all of our thrill seekers and racers! Not only them but anyone whose looking for real performance that genuinely shows, then this car is for you! Come see our inventory today at Porsche Tacoma and see why our dealership takes one of the top spots in Washington! Our wonderful staff is standing by now!