Porsche 911 Carrera S
To the causal consumer or untrained eye the new Porsche 911 Carrera S might not look like anything different from the 2019 911 model, but that couldn't be any more incorrect! This model has a new interior and exterior, a new engine, and a new standard equipment list, basically upgrades all around!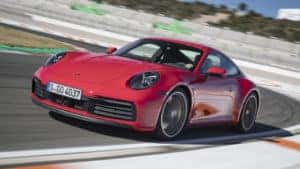 In the cabin you can really feel the luxury. Operating the switchgear delivers a feeling of great pleasure, as knobs are finished with grooved metal grips, switches and buttons operate with a satisfying consistency and quality. Included within the cabin are a set of top quality materials that were tastefully selected. Door panels have been redesigned for additional bottle storage along with the 2 cup holders in the front. As we move to the back, the 2nd row seats do fold flat for a total of 5.75cuft of cargo space as well as 4.66cuft of luggage space in the front trunk.
The 911 Carrera S has 3 available sound systems. From the Sound System Plus which is our base package, to a 570-watt, 12 speaker Bose system, to an incredible Burmester surround sound system that outputs 865 watts and 12 speakers! The capability of this models engine is nothing short of incredible. With an intense 443HP and a 390lb-ft torque, this engines power will not disappoint you! This time around the 911 Carrera S has a new version of the liquid-cooled, twin turbo-charged, horizontally opposed flat-six boxer which has been a signature in the 911 for many years. This model is fast being able to go 0-60 in 3.7 seconds with a top speed of 190mph!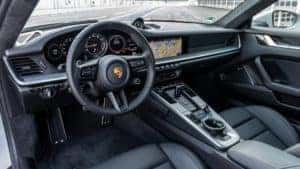 This model comes with a beautiful 10.9in display screen that provides a sophisticated interface for the Porsche Communication Management (PCM) system. The systems provide new and upgraded driver assistance features like adaptive cruise control plus, lane keep assist with traffic sign recognition, night vision which is able to detect pedestrians and animals 300 meters away, and park assist with surround view.
If you are looking to get something with a very premium feel, something with a sleek modern design? Do you want something that is the future of automotive engineering? Well consider the new 2020 Porsche 911 Carrera S! Starting at an MSRP of $127,350 and available starting in Fall of 2019!