Porsche 718 Spyder
With a whopping 414-hp coming from a naturally aspirated flat-six engine, the 2020 718 Spyder is coming to top Porsche's already high performance lineup! The Spyder is taking over for the 718 Boxster and will now be known as the 718 Spyder instead! This 2020 model is set for sale next spring 2020! We are going to get to know our new Porsche some more down below, so go on! Keep on reading!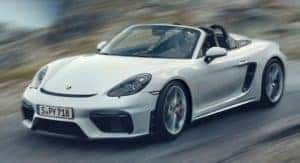 Like mentioned above, the 718 Spyder  comes with the 992-gen 911's engine which is a 4.0L flat-six capable of outputting 414-hp and 309lb-ft of torque to give it a really nice punch. Porsche also claims that the Spyder will be able to go 0-60MPH in just 4.2 seconds. The new Spyder has been revered as one of the best sports cars out there as mentioned in cnet.com's review of the 718 Spyder. The Spyder has a manual cloth convertible top that can be taken off and stored conveniently within the car since it has a dedicated storage for it toward the back of the vehicle! The Spyder is all about performance and driving ability, such as Porsche is known for. Now with knowing that, you are getting performance, not tech. Not that the Spyder doesn't have a good amount of technology, it just has less standard options than say the 911 Carrera or the Cayenne which are also great Porsche models. Many options are most definitely available though!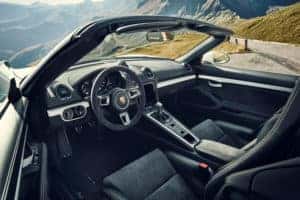 Spring 2020 is expected to an excellent time for all our favorite brands, Porsche being at the top of course! For all your needs, Porsche Tacoma has you covered for all your #GenuineGerman parts and service! Our wonderful brand specialists are waiting for you today! Come get a new SUV for your family or a little toy for yourself! You will always find something you like at Porsche Tacoma!