Porsche 718 Cayman vs BMW M2
Its comparison time again, and we've got quite the battle for you today. Two rivaling models of German descent, it's the Porsche 718 Cayman and the BMW M2. We are going to get down to it and tell you which model is going to be worth your Moo-lah!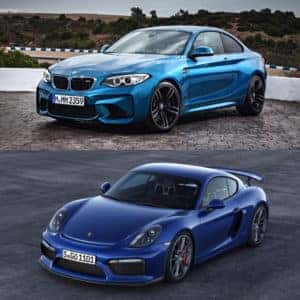 Immediately we can say that, according to JD Power, Porsche ranked 3rd in the Initial Quality Study while BMW ranked 6th, and their study of 3-year old vehicles, Porsche goes up one spot to rank 2nd and BMW descends two spots to 8th. These studies go between every model in each brands lineup, and it really speaks to the quality of Porsche and their products and shows a level of reliability that is unmatched. To go along with reliability, our Cayman beats out the M2 in fuel economy at 22MPG/29MPG versus 18MPG/26MPG on the M2.
Although the Cayman falls behind a little bit on torque, the point still stands though, that the Cayman performs better in every other category including power-to-weight ratio making the Porsche more structurally sound and can brake faster and in less distance than the M2 can. The Cayman only needs 141ft while the M2 needs 18ft more at 159ft.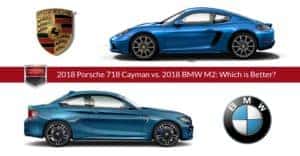 Both models have nice integrated tech, but the Porsche takes the cake in this category too with more features coming standard like phone connectivity and safety features. Porsche is the lean, mean, driving machine when it comes to genuine German engineering. That is why Larson Automotive decided to choose Porsche, because the quality is unparalleled. Come see the gorgeousness and style for yourself at Porsche of Tacoma, maybe even a test drive. Our associates are standing by, come see us!