Porsche 718 Boxster T
The beautiful 2020 718 Boxster T is here, and we are excited to give you some info on it! Not to be confused with an entry level Porsche, the 2020 718 T will cost a bit more for the dynamic blend of additions, simple interior features and styling touches.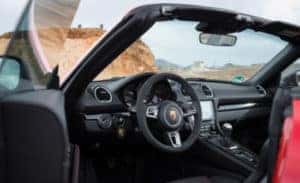 As a standard the T-models are equipped with a turbo-charged 2.0L flat-four which outputs 300Hp and 280lb-ft torque and a nice and even top speed of 170mph. The 718-T handles very well thanks to its 20-inch wheels and standard dynamic equipment. Electrically assisted power steering, and dynamic engine with gearbox mounts help reach incredible corner speed while still having good control. Looking for a smaller travel car? The 718 Boxster T offers great comfort in a more compact way. Instead of having metal door handles like most of our models, they have been replaced with fabric loops, and have integrated comfortably firm and supportive seats with a minimal two-way power adjustment. Did I mention that this model has an electrically powered fabric top?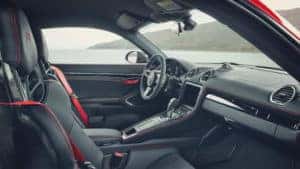 These models are set to release early next year to US dealerships and will start at an MSRP of $68,500. If you are looking for something to travel that isn't too big or something with a little more power and style behind it, or just something to cruise around in next summer with the top down then this model is definitely for you!