Porsche 356 RSR
People are saying that this is the extreme Porsche ever built. I am talking about the one and only Porsche 356 RSR. It is basically a rocket on wheels designed by none other than the madman himself, Rod Emory. He is a Porsche specialist specifically known for designing all sorts of weird and different Porsche 356's, and this one is no disappointment when it comes to what he's known for. Before creating this unit, all it was, was a rusted old 1960 356B coupe found in a yellow barn in bad shape. He stripped it down and creating this beast of a car with new hand-shaped aluminum body and floor panels, widened fenders, and 5-spoke Momo wheels.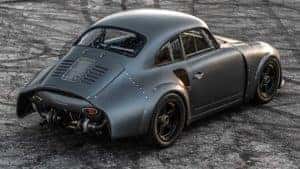 For a car weighing in at 1950lbs, being capable of 400HP is quite the feat for this beast, thanks to its two Garrett GT28R turbochargers! It is quite the beauty if you ask us here at Porsche of Tacoma. We hope to see more and more re-imagined 356 models coming from Rod, and we can't wait to see what is next from his amazing mind!
If you're in the market for a new Porsche, do not hesitate to come on down to the Larson Porsche of Tacoma and see our wonderful staff and test drive a couple models. We are sure you will be impressed and you will walk away satisfied in your new Porsche!