Larson Automotive Group being honored with 25 years in business by PORSCHE USA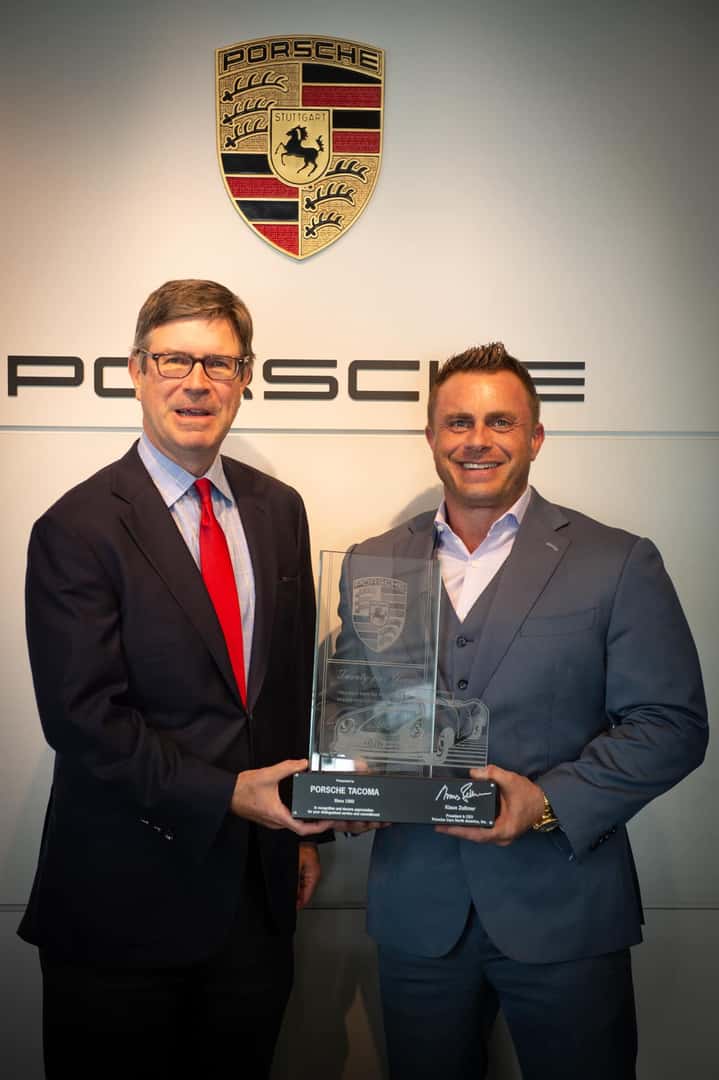 Porsche USA paid a special visit to Larson Automotive Group's Porsche dealership in Tacoma Washington yesterday at 10:30am. The dealership was honored with a commemoration of 25 years of doing business in South Sound. While today will be an intimate setting, the Porsche location is not only the exclusive Porsche dealership in Tacoma but it also serves as a landmark for the brand enthusiasts to connect.
Since it's founding in 1948, Porsche has been committed to technological innovation and mechanical supremacy. Larson Automotive Group has been the home for this brand in Tacoma for more than a quarter of a century. It is has been a rewarding experience to create relationships on behalf of Porsche with the people in Tacoma.
Currently, Porsche offers several Hybrid models and high-performance sports cars. The 2018 Cayenne E-Hybrid places fuel-efficiency and optimal mechanics at the forefront. Capable of reaching 455 horsepower, the Cayenne E-Hybrid is an eco-friendly beast.
(pictured: Rob Larson, Jr accepting the Award-top left; Rob Larson, Jr, Jeffery Manning and Stanton Hejira-bottom right)
Our People, Our Culture, Our Integrity, Our Difference. LARSON AUTOMOTIVE GROUP,
A leader in the industry, dedicated to providing superior service since 1953
Established in 1953.
Founded by Bob Larson, Washington State's largest Auto Group,
Larson Automotive, was built in Puyallup, and that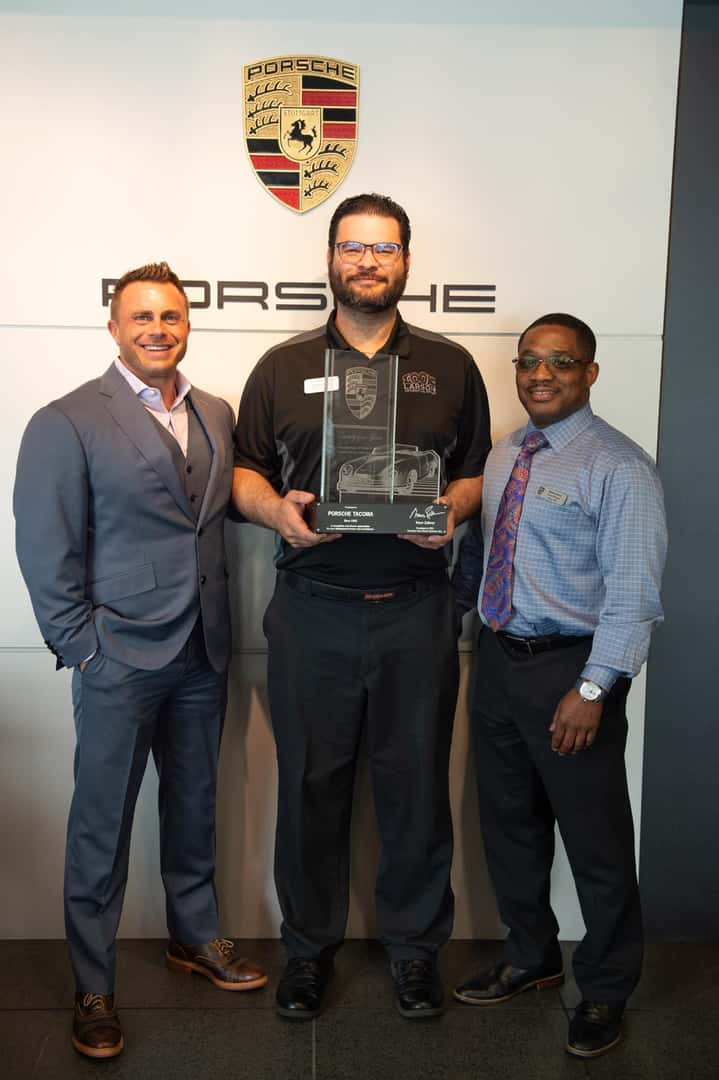 location (Now called Larson Motors) is still in use by us today! Through the years, Bob and eventually his son, Rob Sr., and grandchildren, Josh and Rob Jr., have kept a family business growing strong. Branching out from Puyallup, the Larson Automotive Group now operates 11 locations in Fife and Tacoma as well, just a few minutes from the I-5 freeway. All of our facilities feature the best in amenities, free Wi-Fi, state-of-the-art automated espresso machines, and televisions, all while you wait. And we feature incredible inventory, topping 5000 new and used vehicles to ensure that you find the perfect fit for you. Remember to Look Larson for your next vehicle purchase or service.
Larson Automotive Group has 11 locations in Western Washington to help you find your next Chrysler, Dodge, Jeep, Ram, Hyundai, Audi, Toyota, Volkswagen, Cadillac, Porsche, Mercedes-Benz, Power Sports or Power Boats.
Acts of Kindness Larson Automotive Group is committed to charitable causes that serve our community. Some of the recent contributions included providing pet oxygen masks to the Tacoma Fire Department, South Pierce Fire & Rescue, East Pierce Fire & Rescue, and Gig Harbor Fire & Medic One and West Pierce Fire & Rescue. Rags, The Seattle Humane Society, The NFL Poker Tournament supporting the Randall Morris Foundation and local resident diagnosed with stage 4 cancer who has now passed away. https://www.facebook.com/ChrisCashmanSeattle/videos/225590621620199/
About Larson Automotive Group
https://www.larsonautomotivegroup.com/about-the-larson-group/