2020 Porsche Cayenne Turbo SE Hybrid
Most of you probably think the Cayenne is already so powerful and performance oriented, as you may be correct, we have another contender coming out to bat for Team Porsche. Introducing the all new "2020 Cayenne Turbo SE Hybrid"! This beefy Cayenne lineup addition comes roaring into the scene with a new V-8 twin turbo engine capable of outputting an absolutely staggering 670HP and the beastly force of 633Lb-Ft of torque. An official statement from the Porsche manager of the SUV product line, Christian Trautmann, says "From here on, we hope to make the highest performing model in Porsche's product line a hybrid", and that may be exactly what they are doing seeing as though this model has incredible performance and powertrain!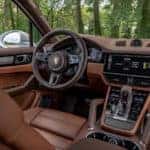 This model comes with an absolutely beautiful brown leather interior with hardwood accents on the dash and door handle areas, a centralized hub display for all your settings in one convenient place, and a centralized control cluster for all your AC and heated seat settings when needed, along with your gear shift of course. Porsche's level of convenience goes unmatched these days as they implement features to make driving so much easier and less stressful like it usually is, especially here in the unpredictable Washington weather. Some of said features include Lane Departure Assist, Emergency Brake Assist, Rear Back up Camera, and many more to make your commute the easiest it's ever been.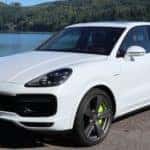 As the newest and most performance oriented hybrid in Porsche's lineup of amazing cars, this car will be coming to us estimated in early 2020 and will MSRP for a measly $163k. Luxury SUV have come so far in the last several years, and they just keep going up and up, come check out our SUV models here at Porsche of Tacoma in Fife! You will not regret it!