2020 Porsche 911 Turbo S First Look
The new 992 generation is coming and it is going to start with the beautiful new Turbo S! Like the current model, the 2020 version will also come with the twin-turbocharged flat-six engine and is going to have more power than the 540HP Turbo and the 580HP Turbo S.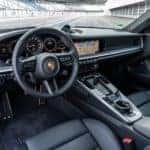 The 911 models have been turbocharged since 2016 but this is the first model that finally gets to use that capital T for the amount of power this model is predicted to have which is over 600HP! Now that is impressive if you ask me! In the new 911 models, All-Wheel drive will be standard as well as Porsche's 8-speed PDK and a plethora of dynamic aids including rear-wheel steering! With all the accessories and power that this 2020 911 model has, it will be able to keep up with almost anything! These can be closely compared to the power of Ferrari's, even beating it in some ways!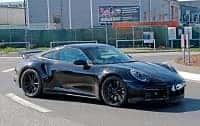 It is said that this model is predicted to release in the US at the end of this 2019 year and will increase in price from the previous models due to power increases and new dynamic design! If you are looking for the latest and greatest in power and design, the Porsche 911 Turbo S is perfect. MSRP and release date to come soon!